| | |
| --- | --- |
| Company Name | SC-ABeam Automotive Consulting |
| Establishment Date | 2003.1 |
| Address | OTEMACHI PLACE EAST TOWER, 3-2, Otemachi 2-chome, Chiyoda-ku, Tokyo 100-8601 |
| President & CEO | Shinya Omori |
| TEL | 81-3-6285-4600 |
| FAX | 81-3-6285-6594 |
| Mail | info@sc-abeam.com |
| Capital | 50 million yen |
| Major Stockholders | Sumitomo Corporation, ABeam Consulting |
| Financial Institution | Sumitomo-Mitsui Banking Corporation |
| Business Description | Research / Consulting for automotive clients, etc. |
Sumitomo Corporation and ABeam Consulting jointly established SC-ABeam Automotive Consulting.
Sumitomo Corporation is a general trading company that focuses on the Automobile industry as its core business. It invested in Automobile businesses that vary from development and production of Automobile parts to auto retailing as well as financial business. Running business with hands-on management, it accumulated knowledge, experience and networks that are specific to this industry. On the other hand, ABeam Consulting is the first Asian global consulting company, the successor of Deloitte Tohmatsu Consulting Co., Ltd. By getting involved in numerous projects with the most practiced companies across the globe, it cultivated know-how for solutions to work on universal and innovative management, business development and profit growth beyond the bounds of countries and industries.
"Management and Operation", "Industry (production) and Market (marketing)", "Planning and Execution". These are elements that tend to be opposed to each other. Bringing key advantages of the two companies together, our specialty is to provide the best consultation to solve these complex business challenges with "speed" (instant results) and "action" (effective results).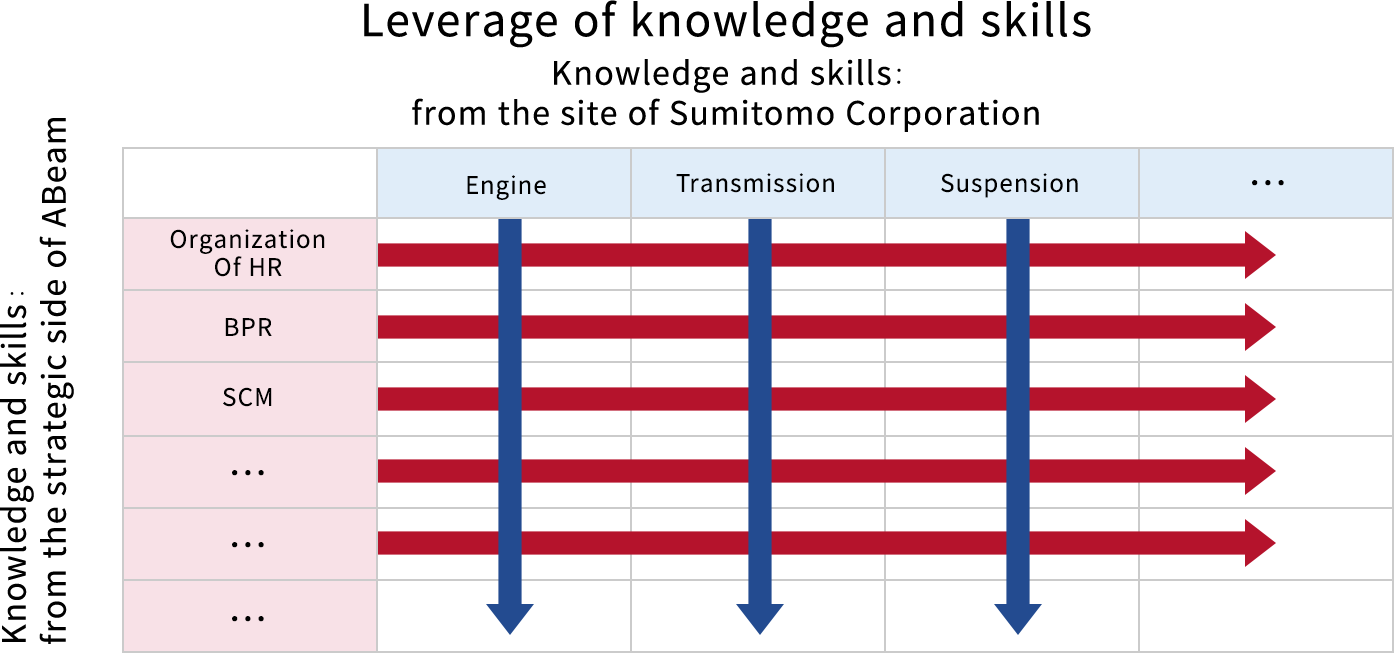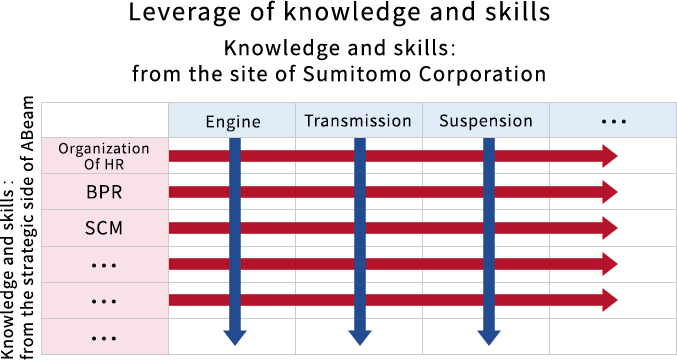 Industry-specialized consulting dedicated to effective results (action) will be provided to give you solutions to "Management and Operation", "Industry and Market", "Planning and Execution", and complex business challenges.
Stockholder

One of the biggest trade-oriented business integration conglomeratest in Japan, focusing on automobile as a core business.
Global investment in Automobile manufacturing, retail, financial business and logistics. Experience with on-site management and skills.
Industrial network based on trades with over 100,000 companies in the world and accumulation of industrial knowledge.
Sumitomo Corporation official homepage
Stockholder

Industry specialized consulting firm.
Cultivated best practice companies.
Experience with supporting innovative management throughout strategy, business processes, people and organizations.
ABeam Consulting official homepage
Our Partner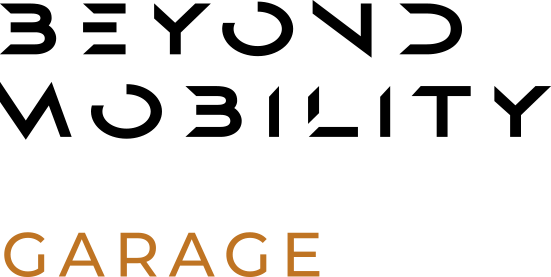 SC-ABeam Automotive Consulting has entered strategic partnership with BMG – Beyond Mobility Garage Ltd, which is the leading smart mobility consulting firm in Israel, and executed investment to it in 2018.
BMG ‒ Beyond MobilityGarage official homepage