Beyond Mobility preformed a thorough analysis using Deep-technology scouting methodology of over 130 Israeli technologies, startups and research activities which are centered around adding in-cabin sensing capabilities to the vehicle. Out of those, BM have identified interviewed and analyzed 34 companies whose technologies can directly be used to solve the needs of leading OEMs. It is interesting to note that many of these were originally developed for other markets and adjusted to the needs of the automotive market. These potential solutions vary greatly in maturity
– on the range from initial concepts or prototypes all the way to commercially available products.
From a technological point of view the solutions can be categorized based on the modality which the technology uses to sense. Beyond Mobility recognize 7 sub-domains of solutions, these are the amount of innovative technology in each modality:
| | |
| --- | --- |
| Exended imaging | 3 |
| Imaging  | 14 |
| Other tech  | 3 |
| Radar | 4 |
| Vibration contact | 2 |
| Vibration remote | 2 |
| Voice | 6 |
Each of the modalities requires a unique installation location which might influence the car architecture and visual design.
Conclusions
Most of the use
cases can be
addressed with a camera giving a high enough level of performance and therefore imaging based sensing (IR) is the recommended
basic modality.
Few image-based companies can deliver the best
cost to feature ratio, while having a very mature technology ready to start integration into vehicles.
Adding a requirement for "medical grade" VSM, or high level of authentication, might require a secondary modality as remote vibration or SWIR.
There is a strong need for standard data set protocols allowing comparison of all solution using the same modality.
As the necessity for new features become apparent, it is our assumption that more technologies / solutions will emerge in the near future.
The diagram presents typical installation position for each modality.

Technologies mapping – potential capabilities by modality and sensing needs
Each of these 34 technologies (sorted by the modalities) can have several very different implementations, sorted by 11 sensing needs: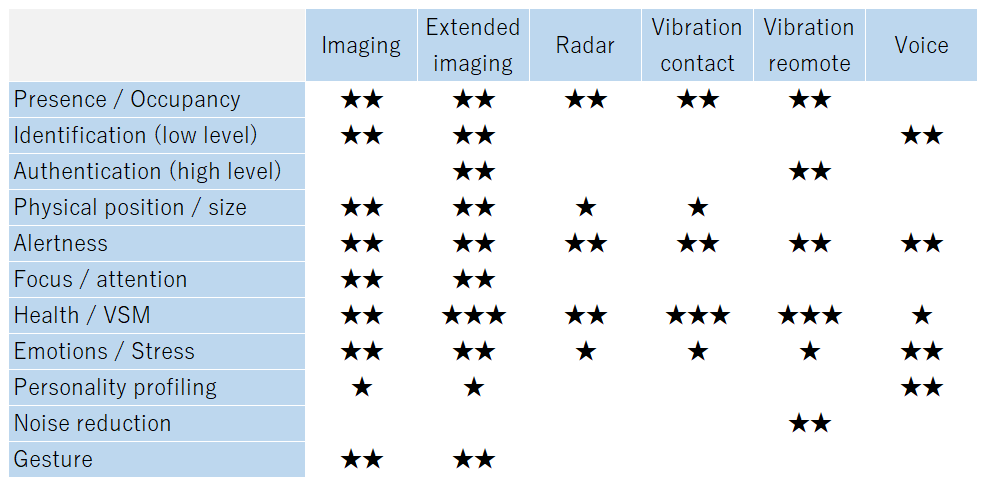 Spotlight – Jungo Connectivity
Driver-monitoring Systems. Top product – CoDriver – towards Autonomous cars: sensing and understanding car Interiors. L2 Safety – Distraction, Drowsiness, Airbags. Personalization – Infotainment, seats, mirrors, mood interaction – HUD, AR, Sound zones Cognitive Agents. L3 Handoff between car and driver Sensor fusion Better vehicle decision making. L4 Occupancy sensing Distress/Bad behavior Seat positions. L5 Well being Cabin readiness Left kids/items Gestures.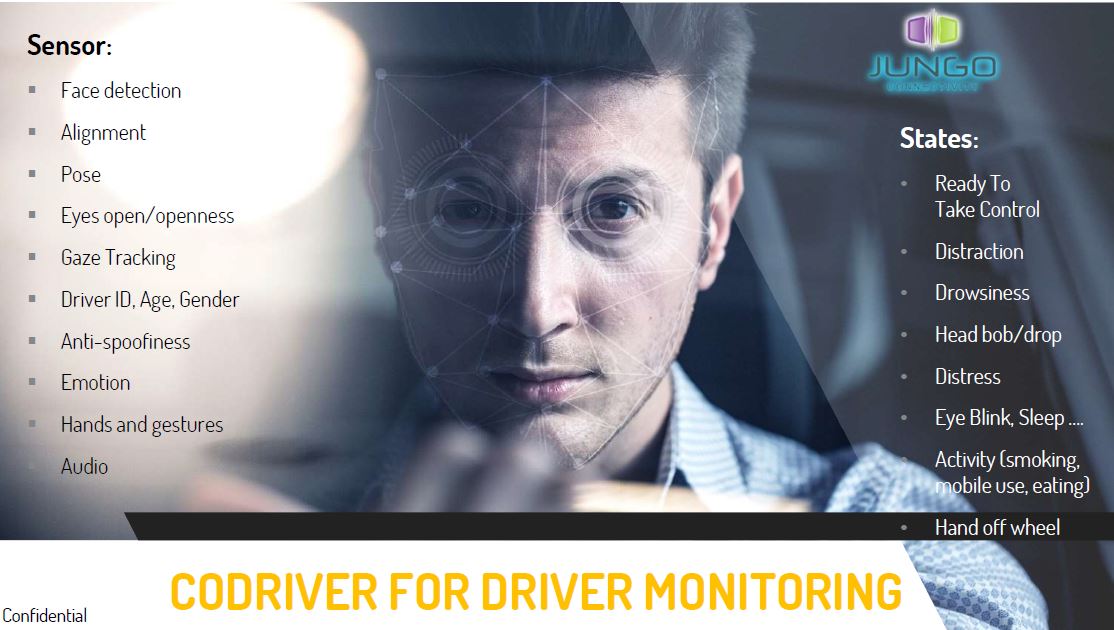 According to Mr. Ophir Herbst, Jungo Founder and CEO:
"In-cabin sensing is now becoming a mandatory technology, both for driver monitoring and left kids' detection. Regulations, for example in Europe, are driving this technology, and OEMs see it as an opportunity not only to comply with regulations but also enhance the vehicle/ human interaction. Jungo is a leader in this space, offering CoDriver, accurate and affordable AI software stack to enable powering any camera inside the vehicle."